INTERMENT at Historic Ivy Lawn Beautiful, Timeless … and Still Available.
We are committed to providing elegant, tranquil and environmentally sensitive interment space now and well into the future. Current burial sites include features such as gardens, historic areas, woodland gardens and scenic overlooks, and accommodate a wide range of memorial styles and interment options.
There are many burial options here at Ivy Lawn, from burial in the ground, to placement in an indoor and outdoor niches, outdoor crypts or scattering gardens. Choose from a variety of settings, sizes, and price points. Whatever you select, your purchase includes endowment care which is the maintenance of the cemetery including all graves, niches, crypt and gardens.
Individual Plots
Full size graves are located throughout the 60 acres of Ivy Lawn. You will be introduced to the new section developed in response to today's evolving needs for burial and commemoration. Depending upon your need and desire we will try to lead you to the perfect location. If you have family here we will attempt to find a location that may be close to them, or you may have a view or direction that may be important. Granite benches are located throughout the park, which offer tree lined roads, beautiful gardens and many historical settings.
Family Plots
Ivy Lawn offers "family plots" in select areas of the cemetery. Family plots are purchased at one time, in increments of either six or twelve contiguous graves. These plots are indivisible as they are meant to provide families the opportunity to be together.
These are special areas designed to accommodate large "upright" monuments which require larger spaces to allow for easements. The monument upright marker is placed in the easement section of the plots.
You will appreciate the encompassing sculpted granite monuments, each individually designed by the family, that stand tall and provide space for personalized inscriptions.
Above Ground Burial
Ivy Lawn offers the option of above ground burial in its many crypts which can be found inside the chapel or mausoleum, or outside in a garden setting or building. Ivy Lawn provides a succession of blooming shrubs and smaller perennial plants for the enjoyment of all visitors to this unique and sacred location.
You will experience the architecture of our historic mausoleum which is graced by the mosaic created by Igor de Kansky in 1963. This mosaic represents the transition from life to eternity. The Ivy Lawn commission is one of his earliest works and represents the cultural expression of that time period that is today called Mid Century in art and architecture.
The Ivy lawn chapel has just undergone restoration to insure protection and enjoyment of the exquisite examples of stained glass art in the chapel that represent styles and artistic technology from the 1920's through the 1960's.
Cremation Gardens
To address the national trend toward cremation, a large number of spaces for cremated remains are available.
The many gardens within the glory of Ivy Lawn will accommodate burial of cremated remains. In addition, a number of garden burials with individual markers are available, as well as burials in upright monument locations. To embrace the needed individuality of every family, Ivy Lawn provides many styles of gardens to choose from.
We offer in-ground burial of urns, either single or double. The gardens designed for these burials will offer choices of grave markers, both in style and size, different locations which offer amenities unique to each garden area, and each garden offers a different feeling of character. We have something for everyone.
Legacy
Legacy is a secluded woodland garden intended for those who wish to cherish the natural world and who wish to choose a burial site that will provide perpetual beauty for the living as well as the dead. Legacy provides the families with the option of in ground garden burials with full size (28 X 16) individual markers. There are benches and walkways which help with accessibility. Legacy offers privacy and separation.
Secret Garden
Precious urn graves with custom inlaid markers now available. Only 75 plots available. The area is adorned with arbors, benches and our beautiful bronze Angel watching over this precious space.
Garden of heroes
Our first cremation Garden dedicated to Veterans ONLY.
Niches
If you prefer not to choose an in-the-ground burial, Ivy Lawn can offer you many options with the purchase of a niche. This is called "Inurnment". It is the placement of cremated remains, often held in a small container called a cremation urn, into a specially designed, above-ground structure for permanent memorializing. Cremation niches will you offer a world of choices and variety. Ivy Lawn Memorial Park has designed locations that allow for individual options to fulfill the need of every customer. A niche will allow for placement of the urn in a very personal location that you can choose. A niche may be a standard size and can accommodate either a single urn or two urns may fit into the same niche.
Choices of niches will include your choice or preference of a location. You can choose indoor or outdoor locations, which may include choosing a garden setting, a wall niche, or columbarium. You will be able to choose the height of the niche location so that you are able to touch, see or look at the niche. Choices will include options of marble front niches, bronze front niches, glass front niches, and granite front niches. Your choice will determine the type of memorial plaque, marker, name plate, or marker you can choose that will match your choice of niche.
Our caring staff can help assist you to understand each and every step and provide a picture of what you want so that the niche will provide a resting place but also a place to come to remember.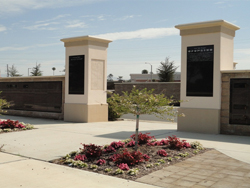 Tribute
Tribute is our new outdoor cremation garden that offers wall niches for double inurnment. It has been built with craftsmanship, and care. The niches are anchored by large columns defined by large granite panels. Each panel is connected to others by granite. All designed and inspired by the Cemetery's historic environment. All niches are eye level so whether you want to touch or sit on the garden bench to ponder the memories of your loved ones the niche is within your reach. The location offers seclusion and privacy.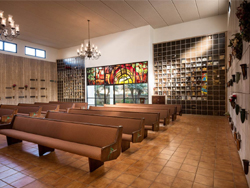 Chapel and Mausoleum
You may choose an indoor niche which will be found in our historic chapel. The wall niches offer you a choice of glass front, or bronze front. They anchor the walls of our chapel so they provide a sacred location for your urn but also for the family to come and visit and spend time. You will rest in an inspired setting surrounded by custom stain glass, walls of marble, high ceilings for space and will forever be a part of Ivy Lawn history. Our chapel and mausoleums are part of the historic designation awarded by the City of Ventura to Ivy Lawn Memorial Park in January 2012.
For those who wish to cherish the natural world and who wish to choose a burial site that will provide perpetual beauty for the living as well as the dead, the chapel is available for interment of cremated remains. A chapel setting, under towering spruce and pine trees, and overlooks our historic grounds.
Scattering Gardens
Ivy Lawn is pleased to introduce our new scattering gardens! January 2013 is the planned date! As we celebrate 100 years of service to our community we are proud to provide more options to the public. We are aware and conscious of the needs of the community and we hear you! Scattering gardens offer an affordable choice for families. You will be forever part of our historic cemetery by having remains scattered our garden and your loved one will be memorialized within the walls of Ivy Lawn forever.
We will offer two scattering garden locations… Both reflecting Ivy Lawn's renowned reputation for quality, "Garden of Reflection" and "Garden of Honor", our Veteran's scattering garden. Scattering is a permanent and irretrievable choice, which means you can never retrieve the remains of your loved. But you will have peace of mind! And you will be able to memorialize your loved one on the substantial handsome granite panels that anchor the walls of the scattering garden. You can come to visit because when you scatter remains at Ivy Lawn, you will be forever be part of historic cemetery and your loved one will be memorialized within the walls of Ivy Lawn. Please call our office to discuss any arrangements you may need or ask any questions you may have.